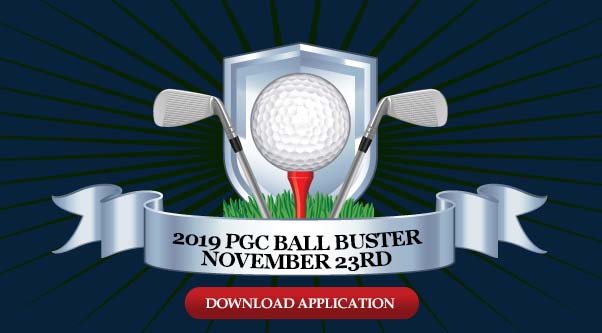 PGC Ball Buster Shotgun Tournament
Where: Legion Memorial Golf Course
When: November 23, 2019 - 9am Shotgun start for all competitors. Rain or Shine event.
Warning: Conditions will be extremely hard. not for beginners!!
Cost: $75 per person to walk or $85 person to ride
*Includes Green Fee, Lunch & Prize Fund
THIS EVENT IS OPEN TO ALL PGC MEMBERS. IF YOU ARE NOT A MEMBER THEN YOU MAY SIGN UP ON THE INTERNET OR IN ANY OF THE PREMIER MANAGED GOLF SHOPS AROUND THE AREA (IT'S FREE). Click HERE to sign up.
Format: 4 Person Scramble
The PGC "BALL BUSTER" is a four person scramble. All competitors will be playing the Blue Tees for men and Silver Tees for women. Tee markers and pin positions will be set in extremely difficult locations. If you need partners please call the course. We will pay gross and net prizes in merchandise credit. To receive handicap strokes in the Net Competition, you must provide your GHIN numbers on the entry form. Net team handicaps will be decided by adding the team's total Ghin handicaps and then taking 15% of that. Optional team side games including the new holes "Bermuda Triangle" contest will be available day of event.
Deadline: Sunday, November 17, 2019
All participants must sign up in advance. Professionals are welcome. (Field lmited to first 36 teams)
QUESTIONS Call 425-259-4653 or
EMAIL: snoteboom@premiergc.com
DOWNLOAD APPLICATION
CLICK HERE FOR ONLINE TEAM REGISTRATION