Congratulations Janet Lee!!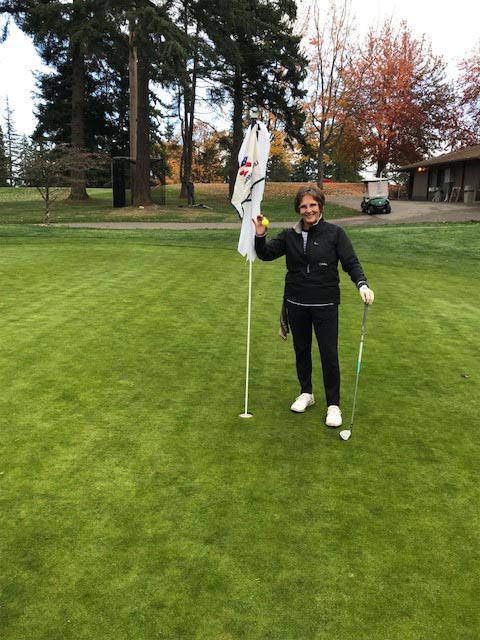 Janet Lee, Co Captain of the Port Gardner Ladies Golf Club, stands on the 9th green showing the golf ball and club she used to make her first ever hole in one on number 9 on October 26th. Janet, from Lake Stevens is a 23 handicap golfer and has been playing golf for 23 years. She used a 9 iron from 85 yards to record the hole in one. Congratulations Janet!
___________________________________________________________
Happy 101st Birthday to Veryl Nelson!!

Long Time Everett Golfer and retired Doctor, Veryl Nelson pays a visit to Legion Memorial Golf Course in October, just a month prior to his 101st birthday and hits a ceremonial tee shot off the 10th tee!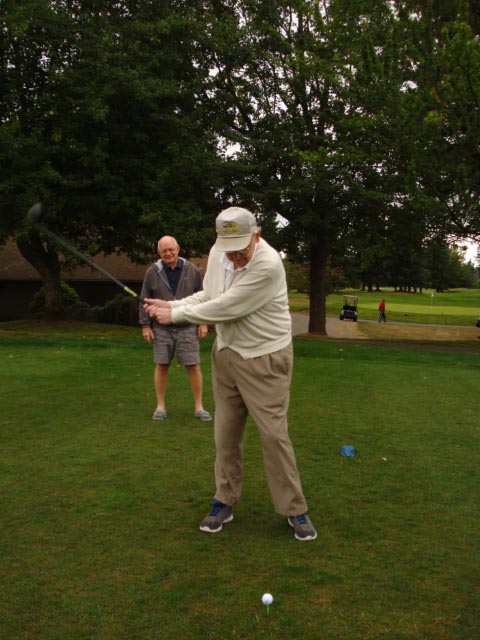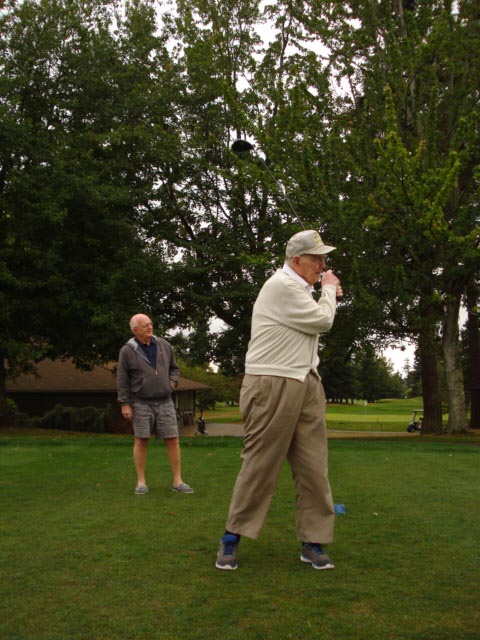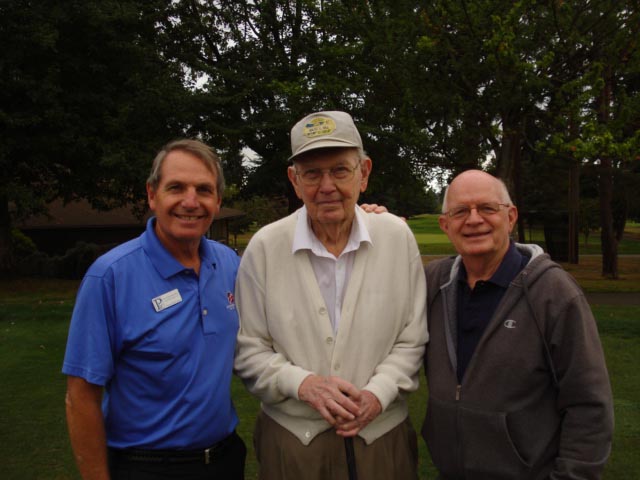 Having quit playing golf on a regular basis about two years ago, Veryl shows he still has plenty of swing. When requested, he stepped up on the 10th tee and on his first swing hits a drive 150 yards down the fairway as his son, Reid Nelson watches from behind.
___________________________________________________________
Legion Memorial
A Pacific Northwest tradition since 1933. Owned and maintained by the City of Everett, and managed by Premier Golf Centers, Legion Memorial is located just 30 minutes from downtown Seattle.
Legion Memorial is a favorite for golfers of all skill levels. Players are treated to wonderfully manicured course conditions, personal customer service, and a player-friendly design that features five sets of tees ranging 6,900 yards at the championship tees, to 4,805 yards at the forward tees.
Remodeled in 1998, this beautiful golf course features some of the area's most spectacular views of the Olympic Mountains, Puget Sound, Mount Baker, the Snohomish River and Cascades.
Set in a tranquil forest setting, the course serves to heighten the experience golfers enjoy when they choose Legion Memorial for a round of golf.
Legion Memorial offers golf instruction through our professional teaching staff to players at every age and every level. We want you to be comfortable and get the most out of your lesson thus, individual and group lessons are available.
Our pro shop is here to help you find the right equipment and accessories to improve your game. We also carry apparel to help you stay comfortable out on the course.
We invite you to visit Legion Memorial to play, to learn, to practice, to enjoy!