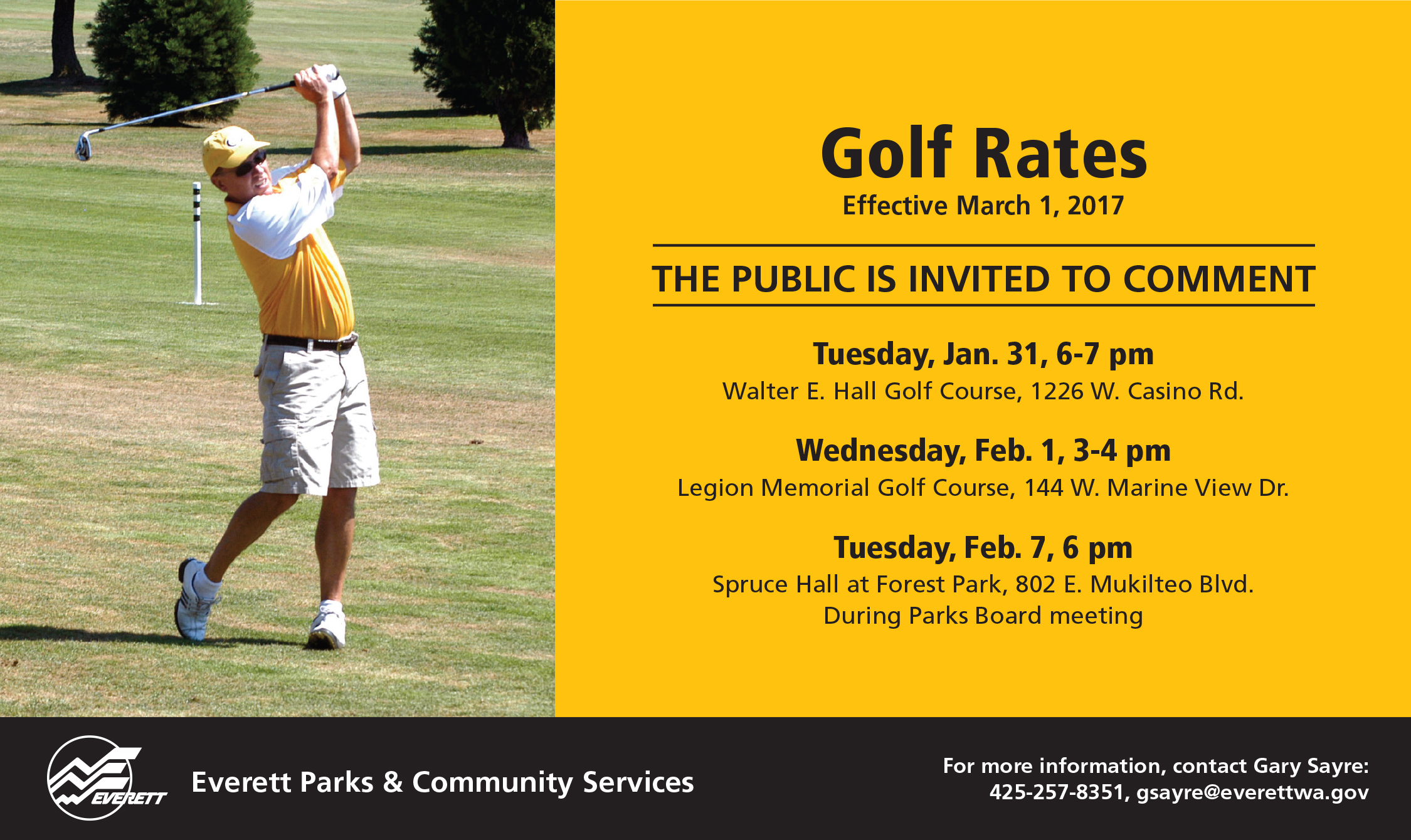 In the past our rates have been posted and advertised "inclusive" of tax. This was done primarily to make the total price and even number to reduce the need to make change on every transaction at the front counters.
We are changing our pricing in 2017 from inclusive of tax to pre-tax pricing for the following reasons:
The vast majority of customers are Premier Golf Club members who enjoy discounts which make their effective rate an odd number anyway.
It makes our rates more fairly comparable to other golf facilities, many of which advertise pre-tax-rates.
Tax rates change from time, for example the new Regional Transit Authority Tax that goes into effect April 1st necessitating a change in price.
The following charts reflect the change to pre-tax pricing and additional pre and post-tax columns to allow you to easily compare the current and proposed prices.
Click here to view 2016 rates and proposed 2017 rates.

Everett's public golf courses, Legion Memorial and Walter Hall are maintained by the City of Everett and managed by Premier Golf Center, LLC. Our two beautiful golf courses are both set in a forest setting and have amazing views of the mountain ranges.
Each 18 Hole course offers golf instructions through our PGA Teaching Staff both for individual and group lessons. If you are new to the sport or would like to work on your short game, there is a program that will benefit you.
If this season brings company outings, charity events, family gatherings, leave the hassle of planning and organizing to our Tournament Director. Our professional staff will work closely to plan and manage the golf outing of which you have always dreamed – on budget, on time, and enjoyable for all.
Our pro shops offer a great selection and competitive prices on golf equipment, apparel and accessories. Our sales associates include certified club fitting experts, committed to matching the right equipment to your swing.
We invite you to visit Everett's Golf Courses, to play, to learn, to practice, to enjoy!
Join the Premier Club

One Club, Thirteen Courses,
Lucky You!

Whether you are a Premier Golf Club member in Seattle, Pierce County, Bellevue, Maple Valley, Everett, Lynnwood or Marysville, your card will now be accepted at all 13 courses.

We've also updated our Online Tee Time Website to allow you to simultaneously search 11 of our courses for the best tee time availabilities to fit your schedule and budget. There's never been a more convenient and valuable Puget Sound golf offering!